Join The Martin Owners Club family!

Martin Owners Club enrollment continues! We included a special perk for the first week in March. Renew your membership before March 6th, and you'll be entered to win one of twenty FREE 2016 memberships. Drawing exclusive for new members will be announced soon! Benefits include: 20% off at the 1833 Shop, a chance to attend an Evening With Chris Martin, and much more! The cost to join or renew is $45. To #JoinTheFamily or renew your membership, click here.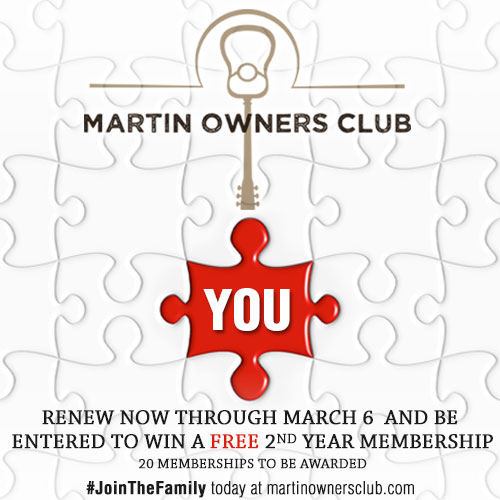 One Month Closer To Owning a Ed Sheeran X Signature Edition
Preorder continues for the Ed Sheeran X Signature Edition. Ed has already performed on The Grammys, Late Late Show, and BBC with the second signature edition model. We are sure there are many more performances to come in March. To learn more about the model, click here. To preorder your Ed Sheeran X Signature Edition, click here.
"Seth Avett & Jessica Lea Mayfield Sing Elliot Smith"
Martin Ambassador Seth Avett will release an album with Jessica Lea Mayfield in March. The album will include covers of famous Elliot Smith songs. "Seth Avett and Jessica Lea Mayfield Sing Elliot Smith" will be released on March 17th. For more information and to preorder the album, click here.
Chuck Ragan Brings His Tour To Europe
Martin Ambassador Chuck Ragan will bring The Pedal Down With The Camaraderie tour to Europe. The tour kicks off March 18th through April 7th. For more information on the tour, click here.